Impressively,
the Mega Moolah online slot machine
has seen five big jackpot wins since 2022.
Out of the wins, one player hit an extra crazy jackpot on May 10, 2022!
This Mega Moolah pot was a whopping $12,792,841. This record win is joining the list of the world's top 10 biggest jackpots won at online casinos.
You can also check out other major jackpot wins from online casinos on our page dedicated to the Mega Moolah slots.
May 10, 2022, Mega Moolah Winner
The big Mega Moolah jackpot winner who took home $12,792,841 remained anonymous. All we know is that they tried their luck at a large online casino. We'll update this article as soon as we get more info on this win from May 10, 2022.
Big winners in 2022
Since the beginning of the year, five players have won five jackpots of over one million dollars at online casinos on the Mega Moolah slot machine.

| | |
| --- | --- |
| 1. 10 July 2022 | €2,020,148 |
| 2. 2 July 2022 | €3,576,131 |
| 3. 6 June 2022 | $4,147,104 |
| 4. 10 May 2022 | $12,792,841 |
| 5. 6 February 2022 | €7,296,286 |
Considering Mega Moolah's success already, players will no doubt win other multi-million dollar jackpots by the end of 2022.

As for the games in the WowPot series, the star slot machines in our guide, we cannot predict when they will pay the jackpot. The prize pool in play on the WowPot series is over the 14 million mark. When a lucky player does succeed in winning the WowPot jackpot, it'll be BIG news.
2022 winners on WowPot games
Have there been
record breaking wins on WowPot slots
? Yes, several, but not since 2021.
The biggest 2022 jackpots won on our guide's favorite WowPot games series have not exceeded one million. However, we have seen some substantial earnings. On the Major segments of the WowPot bonus wheels, players have won $50,000 to $250,000.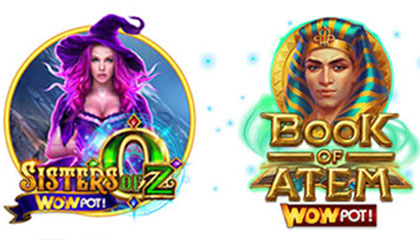 There haven't been any giant jackpot wins on the Wowpot series since August 23, 2021, when a player won the WowPot jackpot on the Ancient Fortunes Poseidon game. Since then, the WowPot jackpot has kept climbing to a super high level. Because, as long as no one wins the top prize, the pot at stake only increases.
Winning odds and payout frequencies
Slot machines with the biggest jackpots attract players seeking fortune. However, winning millions on these types of games is not easy.
Luck is the key to success! Any lucky player can hit the jackpot, but you can improve your odds of winning by following a few special tips. In fact, slot machines are programmed with payment frequencies, forcing them to pay the jackpot at a given time. So the trick with WowPot games to boost your odds of winning big is to place max bets.
Odds of winning a jackpot
Certain terms are easily confused in articles talking about casino games. For example, people interpret the profitability on slot machines in different ways. It's best to stay realistic and understand that a casino game can not really be profitable. In a casino, any gambling benefits the gambling house.
Some slot machines pay better than others at online casinos. So, the team at WowPot Slots Casino has reviewed them.
Three amazing slot machines are worth remembering, Immortal Romance, Kings of Crystals, and Thunderstruck II. You can play these games at the best online casinos in the world, where they pay out jackpots daily. These slots won't win you millions, but you can certainly win tidy sums of money. Trying your luck on one of these slot machines offers better odds of winning than on the Mega Moolah and WowPot series.

Last Updated on July 29, 2022 by Editor