Big news! On June 25, 2023, a player made history as the first millionaire jackpot winner on the Mega Money Wheel slot machine. This highly acclaimed slot, featured across sites in the renowned Casino Rewards group, has emerged as a standout game at iconic online casinos.
The lucky winner struck gold at Zodiac Casino while playing the thrilling Mega Money Wheel game. This remarkable one-million-dollar jackpot marked the first major win on the Mega Money Wheel slot at Zodiac Casino. Given that the game only launched in October 2022, we can expect many more millionaire jackpots in the months and years to come. As its popularity continues to soar, the slot will undoubtedly contribute to the payout of massive jackpots.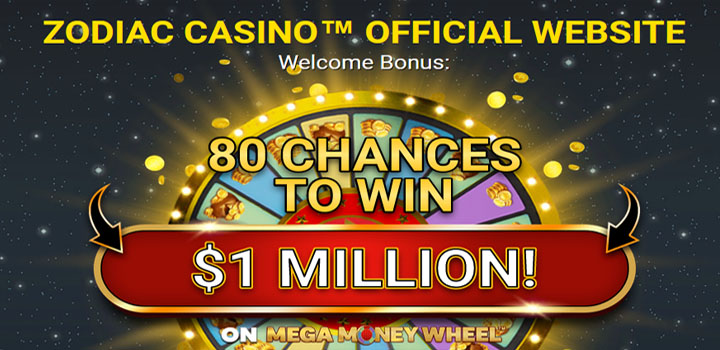 PLAY AT ZODIAC
Most Prestigious Casino Rewards Brands
The Casino Rewards chain boasts some of the world's best online casinos, and Zodiac Casino stands as one of the most popular slot sites. Other iconic sites in the chain, such as Grand Mondial and Yukon Gold, have also garnered immense acclaim.
GRAND MONDIAL
Home to record jackpot wins on the Mega Moolah slot machine.
YUKON GOLD
Tailor-made for playing progressive jackpot slot machines.
ZODIAC CASINO
Ranked among the top 5 best video slot machine sites by numerous casino guides.
All three casinos mentioned above offer free spins in their welcome programs, allowing you to test your luck on the Mega Money Wheel. For example, Zodiac Casino offers 80 spins for just $1, giving you 80 chances to win a million-dollar jackpot. Alternatively, Grand Mondial and Yukon Gold offer 150 spins for a $10 deposit.
Mega Money Wheel Jackpots
The Mega Money Wheel slot machine offers a range of prizes from 10 cents to 20 dollars per spin. Regardless of your bet size, you can claim the 1,000,000 Mega Jackpot. However, if you opt for a $20 stake, your chances of winning intermediate to giant jackpots significantly increase.
Zodiac Casino Winning Jackpots
Zodiac Casino is renowned for its popular slot machines, exclusive to Casino Rewards online casinos. These games frequently pay out giant prize pools of over $50,000, with lucky players even winning over $100,000 on these tailor-made games. To find out which games offer the highest payouts, head to the winner's page at Zodiac Casino.
Zodiac Casino Millionaire Jackpots
The million-dollar win on the Mega Money Wheel at Zodiac Casino on June 25, 2023, is bound to attract even more players. However, it's worth noting that players have won much larger jackpots at this star-themed online casino on slots in the Mega Moolah series. In December 2019, a Canadian player secured a mind-boggling win exceeding $20 million!
Bonuses and Free Spins
Grand Mondial, Yukon Gold, and Zodiac Casino offer sign-up spin offers that allow you to win one million on the Mega Money Wheel. In addition to spins, these Casino Rewards sites also provide bonuses for players. These bonus packages are playable on any game of your choice. For instance, at Grand Mondial, along with 150 spins for a $10 deposit, you can also claim a $250 bonus. This $250 bonus for spins on the Mega Money Wheel is an excellent strategy to enhance your chances of winning a million-dollar jackpot.
Mega Money Wheel is Cross-Platform
The slot machine is compatible with computers, smartphones, and tablets. However, it has gained significant popularity among mobile gamers, closely followed by Mac users. Zodiac Casino's widespread appeal is due to its commitment to offering multi-platform gaming experiences.
Origins of Winners
Players from England, Canada, and New Zealand have emerged as the top winners at Zodiac Casino. It's no surprise that Casino Rewards slots frequently witness massive jackpot winnings. However, the Mega Moolah slots reign supreme regarding multimillion-dollar jackpots, boasting the largest prize pools.

Last Updated on July 18, 2023 by Editor